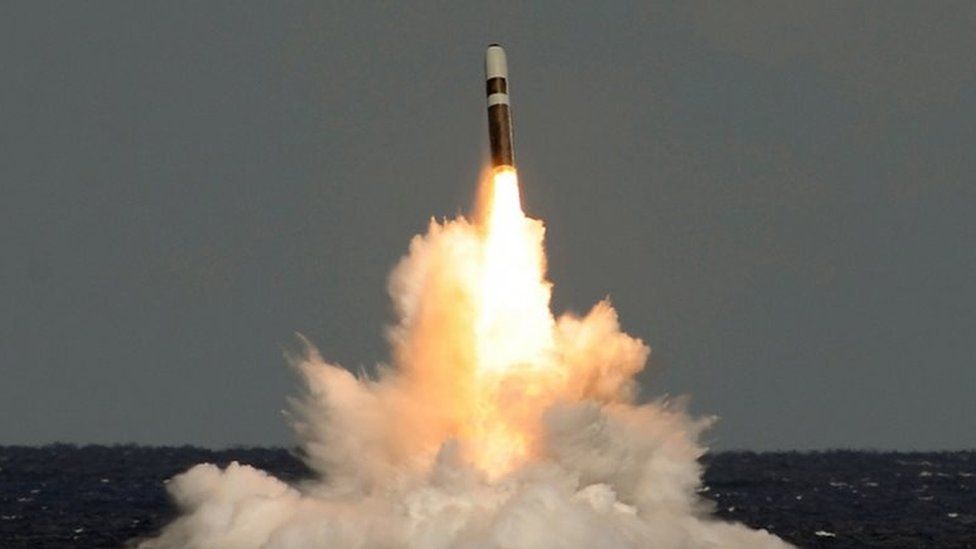 The UK is set to reverse plans to reduce its stockpile of nuclear weapons by the middle of the decade, as part of a foreign policy overhaul.
The cap on the number of warheads will now increase to 260, having been due to drop to 180 under previous plans from 2010.
The UK will shift focus towards Indo-Pacific countries, described as the world's "growth engine".
And it pledges the UK will do more on the "systemic challenge" of China.
Outlining the strategy to MPs, Boris Johnson said after Brexit the UK would have to "relearn the art" of competing against countries with "opposing values".
But he added the UK would remain "unswervingly committed" to the Nato defence alliance and preserving peace and security in Europe.
Labour leader Sir Keir Starmer accused the Conservatives of overseeing an "era of retreat," with armed forces cuts "every year for the last decade".
The integrated review, which runs to over 100 pages, has taken over a year and sets out the UK's foreign policy priorities until 2030.
It says the decision to lift the overall cap on the UK's nuclear warhead stockpile is justified by the "evolving security environment" since 2010.
The document, which indentifies Russia as the "most acute threat" to UK security, also says:
It is "likely" that a terrorist group will launch a successful chemical, biological or nuclear attack by 2030

The UK will set up a new counter-terrorism operations centre to improve the response to terror attacks

The government wants the UK to become a "science and tech superpower" by the end of the decade
Mr Johnson said: "The review describes how we will bolster our alliances, strengthen our capabilities, find new ways of reaching solutions and relearn the art of competing against states with opposing values."
He said the UK had led international condemnation of China's "mass detention" of Uighur people in Xinjiang, and its actions in Hong Kong, adding: "There is no question China will pose a great challenge for an open society such as ours."
In response, Sir Keir said UK policy towards China had been "inconsistent" and the government had "turned a blind eye" to the country's human rights abuses.
He said Labour remained committed to retaining nuclear weapons, but said the document had failed to detail the "strategic purpose" for increasing the warhead stockpile.