Monarchs, heads of state and prime ministers across the world, past and present, have sent heartfelt tributes following the death of Prince Philip, Duke of Edinburgh, at the age of 99.
Spain's king and queen telegrammed "Dear Aunt Lilibet" to mourn the passing of "Dear Uncle Philip".
Along with tributes from Europe's royal households, many Commonwealth nations praised his exceptional public service.
They paid tribute to a life of duty, purpose and devotion to the Queen.
"He was a heck of a guy... 99 years old, he never slowed down at all," said US President Joe Biden. All living former US presidents also sent tributes.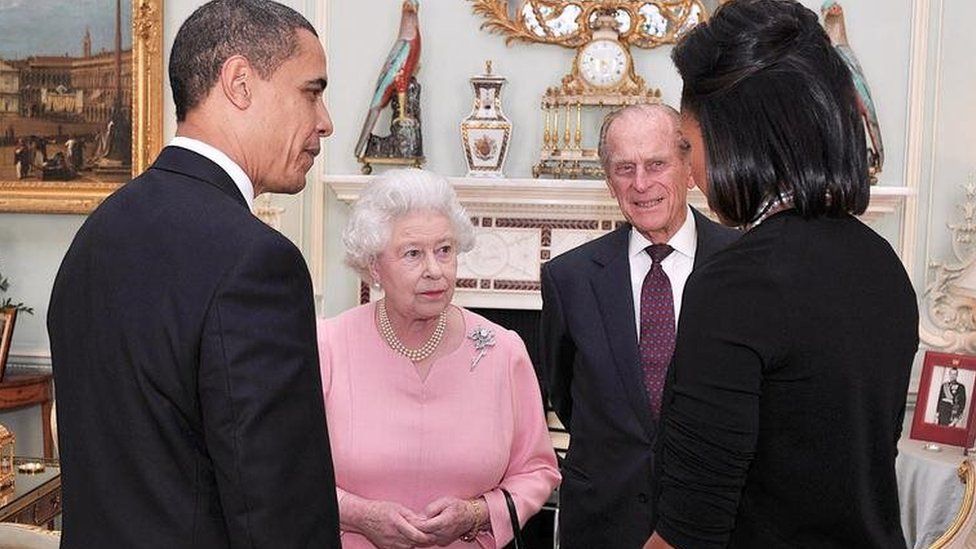 Barack obama said Philip was a "remarkable man... who helped provide steady leadership and guiding wisdom"
The duke, whose death was announced by Buckingham Palace on Friday, accompanied the Queen during hundreds of overseas visits.
'Cherish the memories'
Prince Philip had blood ties with a number of former or current European royal households, and many of their members sent condolences.
The telegram from King Felipe and Queen Letizia of Spain was particularly poignant, sending "all our love and affection" to Aunt Lilibet (the affectionate name used by the duke for his wife) and Dear Uncle Philip.
"We shall never forget the moments that we shared with him," they told the Queen.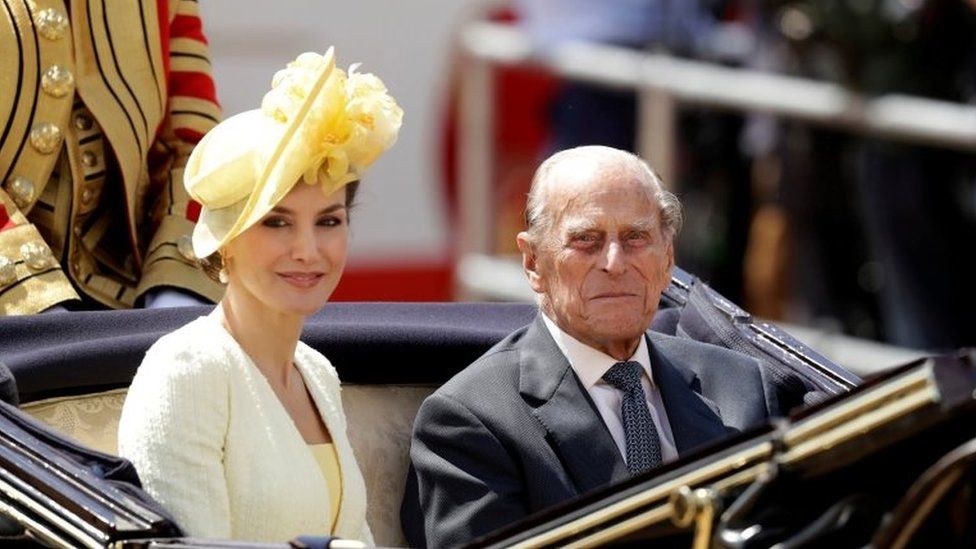 Prince Philip rides in a carriage with Spain's queen Letizia in london in 2017
Sweden's King Carl Gustaf said the duke had been "a great friend of our family for many years, a relation we have deeply valued".
Swedish royal family spokeswoman Margareta Thorgren told the BBC the king and the duke had sailed together in England, adding: "That was the start of a great friendship between them."
The Dutch royal family said they remembered Prince Philip with great respect, adding: "His lively personality made an indelible impression."
Belgium's King Philippe said he and Queen Mathilde would "always cherish the memories of our warm encounters".
'A pillar for the Queen'
Tributes came in too from the Commonwealth - 54 nations, most with roots in the British Empire and home to 2.4 billion people.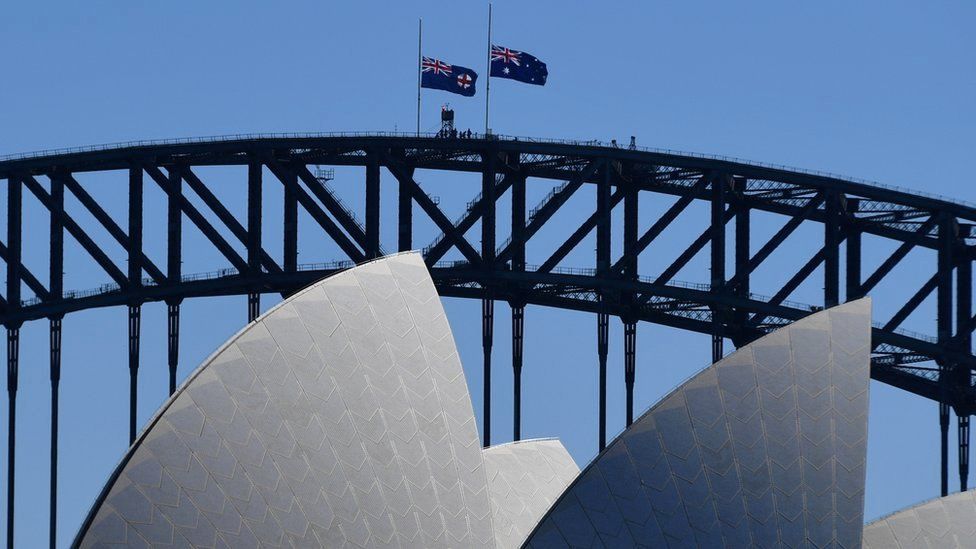 Australian flags were flown at half-mast on the Sydney Harbour Bright in tribute to the duke
"He embodied a generation that we will never see again," Australian Prime Minister Scott Morrison said. "He was a man who was steadfast, who could be relied upon, always standing by his Queen."
Flags were lowered to half-mast at Australia's Parliament House in Canberra, where a 41-gun salute took place on Saturday, and at the Sydney Harbour Bridge, where in 1954 Prince Philip arrived alongside the newly crowned Queen Elizabeth on the first visit by a reigning monarch to the country.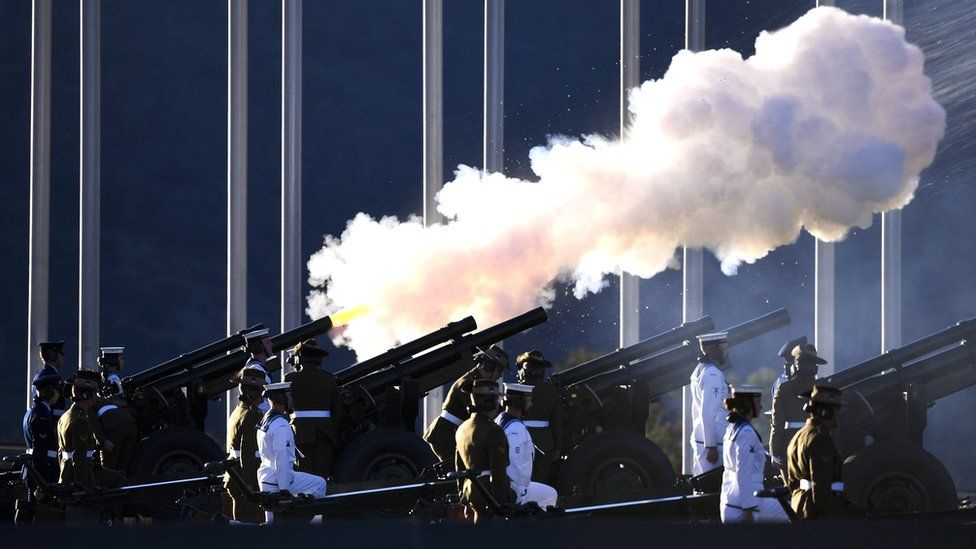 A 41-gun salute in fired to commemorate the death of prince Philip at Parliament house in Canberra, Australia
New Zealand's Prime Minister Jacinda Ardern noted that thousands of young people had "completed life-changing challenges" through the duke's Hillary Award.
A ceremony has been planned in the country's capital, Wellington, for midday on Sunday (00:00 GMT), which is expected to last about 40 minutes and feature a 41-gun salute.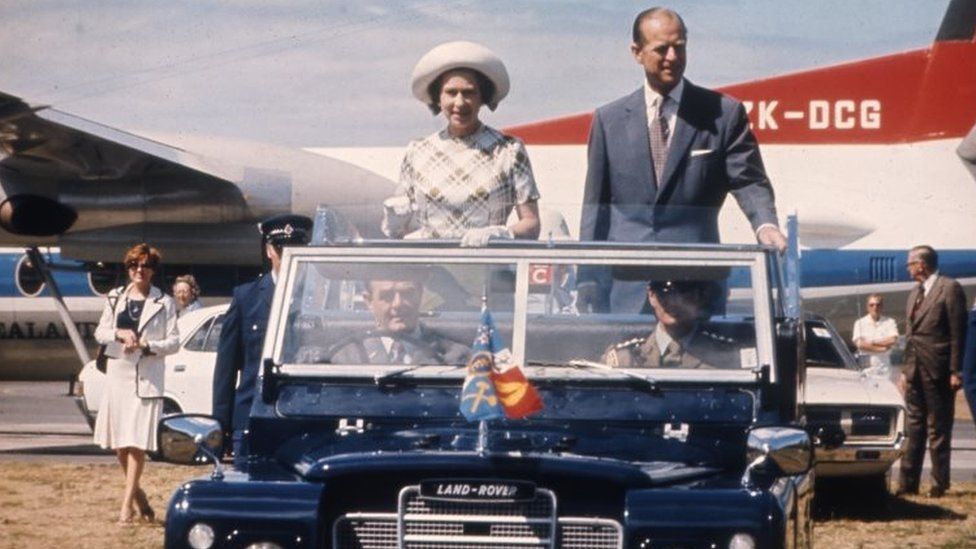 Philip and the Queen in new Zealand in 1977. Many of the warmest tributes were from the Commonwealth
Canada's Prime Minister Justin Trudeau said the duke had "contributed so much to the social fabric of our country - and the world".